Short stories / Anthologies
Frances' stories have been published in a variety of anthologies and magazines.
The Scent of Tears (Tales of the Apt)
Adrian Tchaikovsky has opened up the realm of the Apt, as featured in his best-selling 'Shadow of the Apt' decalogy, to a carefully selected cast of fellow writers, inviting them to do their best and their worst within the world he has created. In this anthology, they have done just that. Aside from Frances and Adrian Tchaikovsky himself, contributors include Keris McDonald, David Tallerman, Juliet E McKenna, John Gwynne, Peter Newman, Tom Lloyd, Joff Leader and Justina Robson.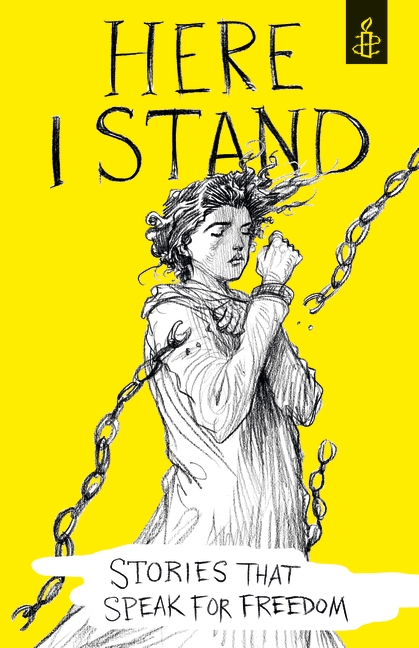 Here I Stand: Stories that Speak for Freedom
Through short stories and poetry, twenty-five leading authors and illustrators explore the top human rights issues facing young people today. Now is the time to take a stand and make a difference.
Organised by Amnesty International, this anthology includes contributions from Tony Birch, John Boyne, Sita Brahmachari, Kevin Brooks, Kate Charlesworth, Sarah Crossan, Neil Gaiman, Jack Gantos, Ryan Gattis, Matt Haig, Frances Hardinge, Jackie Kay, AL Kennedy, Liz Kessler, Elizabeth Laird, Amy Leon, Sabrina Mahfouz, Chelsea Manning, Chibundu Onuzo, Bali Rai, Chris Riddell, Mary and Bryan Talbot, Christie Watson and Tim Wynne-Jones.
Reviews of Here I Stand
Children's Book of the Week. "Twenty-four celebrated authors contribute to this inspiring anthology of stories, with a smattering of poems and drawings, exploring the experiences of refugees, underdogs, prisoners and outsiders, often through the ordinary lives of young people. Some of the narrators are adults who deal with the young; others are themselves young. As teenagers fall in love, relate to classmates, teachers and families, play in a band or hang out with their friends, these compelling and accessible tales explore how thoughtlessness can contribute to the suffering of others." ~ Nicolette Jones, The Times, read more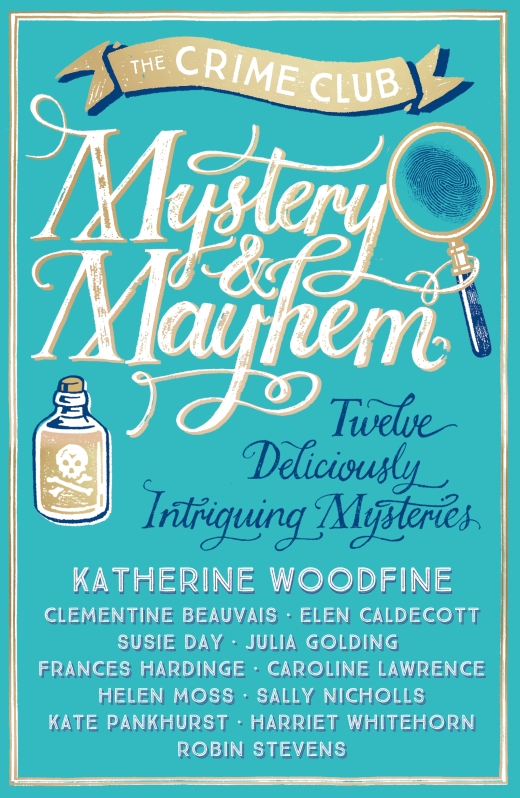 Mystery and Mayhem
Twelve mysteries. Twelve authors. One challenge: can you solve the crimes before the heroes of the stories?
The collection contains twelve brand-new short stories with intrepid young detectives, written by the 'Crime Club' – Clementine Beauvais, Elen Caldecott, Susie Day, Julia Golding, Frances Hardinge, Caroline Lawrence, Helen Moss, Sally Nicholls, Kate Pankhurst, Robin Stevens, Harriet Whitehorn and Katherine Woodfine. It's edited by Robin Stevens, author of the famous Wells and Wong mysteries.
Reviews of
Mystery and Mayhem
"All twelve short stories had original plots and the characters were believable and enviable in their ability to solve murder plots in less than thirty pages! … I can't pick a favourite of the twelve because they were all so different and gripping; all I can say to all you other young sleuths out there is track down a copy of this book and read it. 5 stars out of 5 in my opinion." ~ BookieCookie, The Guardian, read more
"The variety contained in these pages is breath-taking. There are poisonings, dog-nappings and a good number of crimes that seem, at first glance, simply impossible to commit. You'll be whisked from contemporary Britain to the eighteenth century and to Victorian London. You'll find yourself in theatres, grand country houses and the American suburbs, and you'll discover enigmas and puzzles concerning pearls, pineapples, poisons and poodles (to employ just one letter of the alphabet). All the clues are there on the page, there's no cheating or actually-I-never-told-you-but, so you can set to and get to the solution before Emily, Minnie, Marcel and co, or you can sit back, relax and enjoy the ride. You'll laugh, you'll gasp with shock, you'll admire their cleverness (and your own!) and you'll occasionally grind your teeth as adults step in at the last minute and take all the credit. But most of all you'll have lots and lots of fun." ~ Linda Lawlor, The Bookbag, read more
"What a wonderful concoction of mysteries! I loved dipping in and out of this book. It didn't take me long to finish all of the stories, which were each delightful in their own way." ~ Serendipity Reviews, read more
"The book is a mix of classic crime yarns, including locked room style mysteries, poison plots, safe-breaking and sabotage." ~ The Sun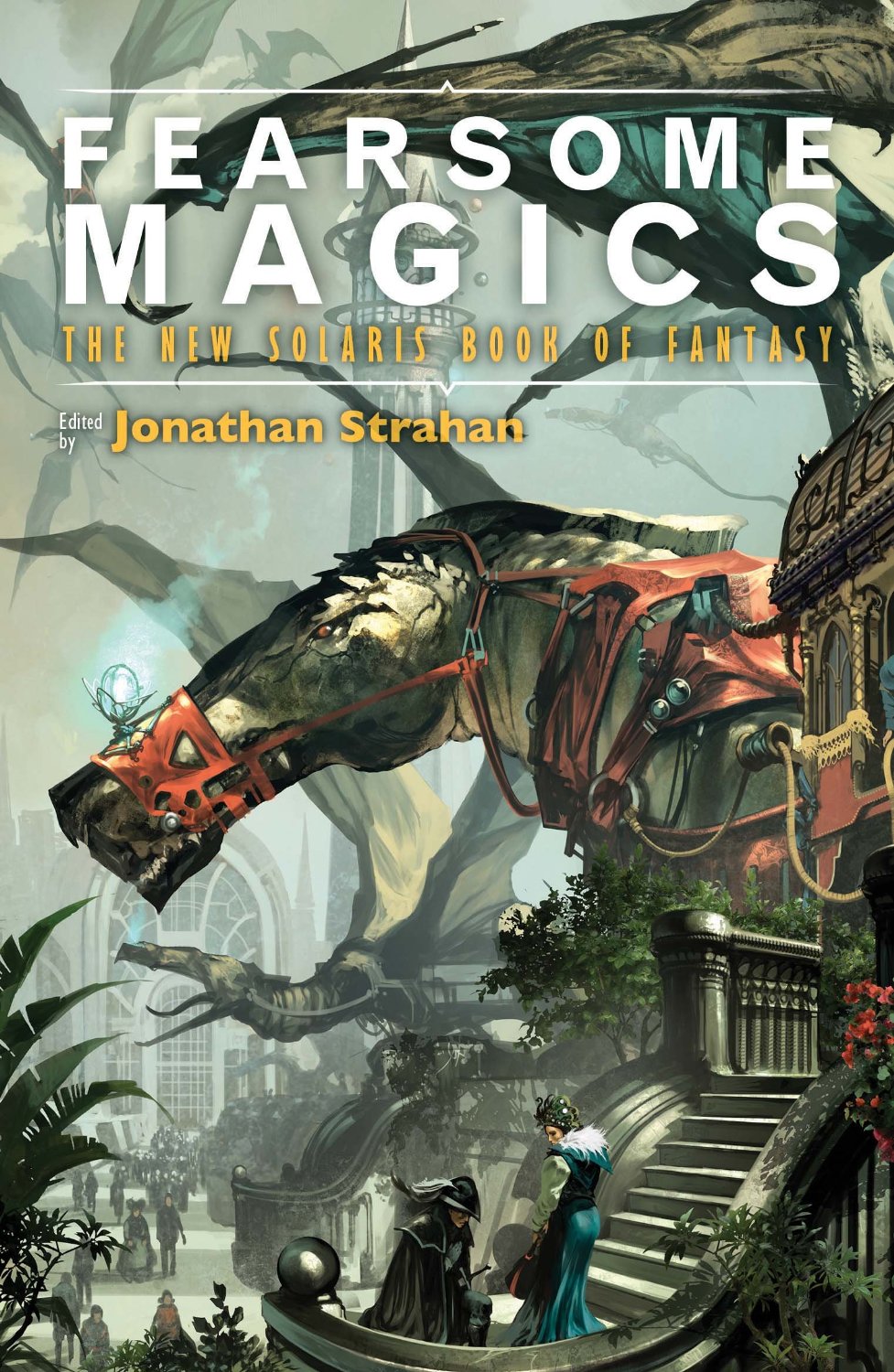 Fearsome Magics
A cabinet of magic! A cavalcade of wonder! A collection of stories both strange and wondrous, of tales filled with wild adventure and strange imaginings.
Frances' story 'Devil's Bridge' appears in Fearsome Magics, the second New Solaris Book of Fantasy, alongside tales by Garth Nix, Christopher Rowe, Isobelle Carmody, Tony Ballantyne, KJ Parker, Ellen Klages, James Bradley, Karin Tidbeck, Justina Robson, Nina Kiriki Hoffman, Kaaron Warren, Genevieve Valentine and Robert Shearman.
Reviews of
Fearsome Magics
"Why-isn't-she-better-known fantasy author Frances Hardinge produced a charming little tale called 'Devil's Bridge' for this collection. It features a lonely girl with the supernatural ability to create a bridge that will take you anywhere. Despite its brevity, the story is jam packed with stunning ideas and fantastically engaging writing that will really capture the imagination and sets the tone for the entire anthology." ~ Starburst, read more
"'Devil's Bridge', by Frances Hardinge […] A teleporter reluctantly agrees to open a bridge for a mysterious man. Tightly written, short, fast paced, and engaging with a relatively unique main character. Considering how short it is, I'm surprised I enjoyed it as much as I did. Which, I think, says a lot about the author's skill. All in all, an entertaining piece." ~ Drunken Dragon Reviews, read more
"What this title from Rebellion offers is a whole selection of authors who present a cracking set of stories based on a central theme. It's quite quirky to see what each one creates on that theme and with none treading the same ground it is a wonderful way to see how prose and pace can really make a tale for the reader. A real masterclass in writing." ~ Falcata Times, read more
"I enjoyed every single one of the stories in this anthology and highly recommend you go and read them all. […] All in all I think this a very strong anthology with a collection of stories that are all wonderful, creepy, epic, and heart-breaking all at once. To say that I would recommend this short story collection would be a bit of misdirection. I have already recommended this anthology several times to friends. It has strong female characters, teddy bears, maths, and a village jam and preserve competition. What more could you want?" ~ The Tempered Pen, read more
"Frances Hardinge's 'Devil's Bridge', an original idea well executed, again with a strong young female protagonist (I like those)." ~ Mike Reeves-McMillan, read more
"Another dark story of sacrifice is Frances Hardinge's 'Devil's Bridge'. Here a girl has the power to open a bridge to any place, real or imagined. The ability has been passed down from mother to daughter. Whether this is the result of a deal with the devil or something else, payment is always required to cross the bridge. Her uncle forces her to open bridges for money, a practice that can't end well." ~ Keith West, read more
La Femme
Both La Femme and its twin anthology, Noir, are filled with fantasy, horror and science fiction tales that delve into the heady, unsettling world of noir. La Femme focuses on the idea of the femme fatale, and females who are more or less than they seem. Aside from Frances, contributors include Storm Constantine, Holly Ice, Ruth EJ Booth, Andrew Hook, Stewart Hotston, Adele Kirby, Maura McHugh, Jonathan Oliver, Stephen Palmer, John Llewellen Probert and Benjanun Sriduangkaew.
Review of
La Femme
Amazing Stories has the following nice things to say about my story:
"'Slink-Thinking' by Frances Hardinge offers a couple of rival femmes fatale in a hugely inventive, not to say surreal and a little bit barking, ghost story. Benjamin is the newly deceased household canine. Lu Lin, the feline, proceeded him into the afterlife by a year. She takes to showing Benjamin the ropes as the pair continue as ghosts in the house where they were formally beloved pets. On the spirit level the whole house is occupied by the shades of every pet who ever lived there, from deranged gerbils to a power-crazed chinchilla. There is also a human, and very much alive, femme fatale to deal with, and Benjamin soon finds life isn't easy being dead. 'Slink-Thinking' is original, off the wall and tremendous fun." ~ read more
'Hayfever'
Frances's short story 'Hayfever' appears in the winter 2014 issue of the online magazine Subterranean: you can read it here.

Reviews of 'Hayfever'
"Frances Hardinge's story is one of amazing imagination, and which weaves supposedly diverse elements into something that comes together flawlessly. It really has everything that good science fiction should have, wrapped up in a nice sense of fun." ~ Tangent Online
"'Hayfever' is a clever tale, filled with weird creatures and an ethical dilemma that Stephen must overcome… a well-developed story that is both unique, creative, and wonderfully weird that left me ready to try one of Stephen's otherworldly culinary dishes for myself." ~ Odd Engine
"Fantastic humor, carried quite a bit to the extreme, and incorporating a mystery." ~ Locus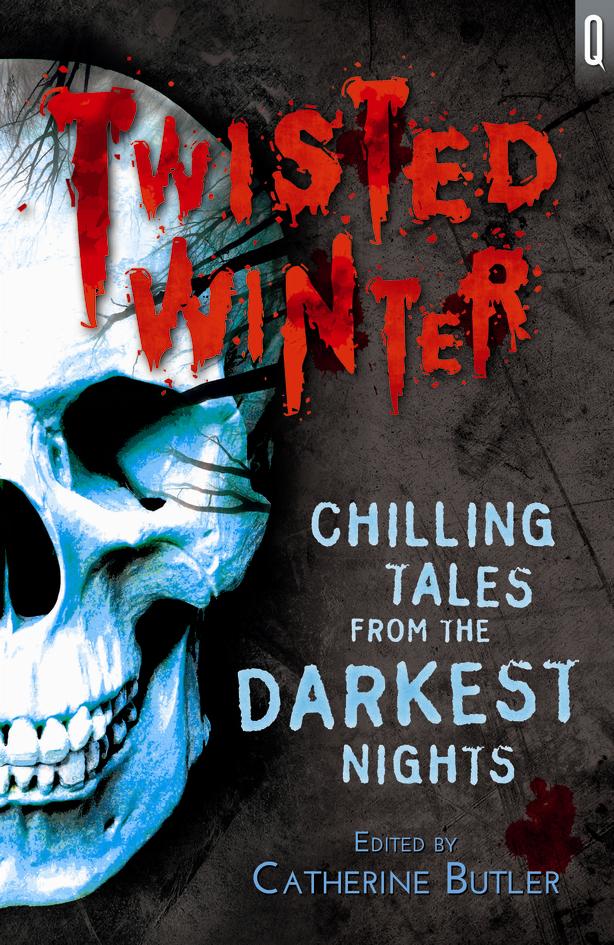 Twisted Winter
This collection of sinister, wintry tales is not your ordinary medley of Christmas ghost stories. Each of the seven stories discovers a very different strain of macabre in the season of long nights. Frances' exceptionally talented co-authors are Susan Cooper, Rhiannon Lassiter, Catherine Butler, Katherine Langrish, Frances Thomas and Liz Williams.
Reviews of
Twisted Winter
"A haunting, well-written collection of spooky short stories edited by Catherine Butler, Twisted Winter displays a constellation of children's writers such as Katherine Langrish, Susan Cooper, Frances Hardinge and more." ~ Amanda Craig, The Times
"It's common for collections of short stories aimed at teenagers to leave the reader feeling somewhat short-changed – but the seven seriously sinister tales gathered together here by contributor and editor Catherine Butler are genuinely outstanding examples of the horror genre. Low on graphic gore and high on extreme tension, this is finely honed writing that gets right to the bone of all our fears, reaching out to the darkness within that so often seems to fascinate and terrify young people as they move toward adulthood. Any of the individual narratives would have potential as the heart of a lesson looking at how language can be used to create atmosphere and suspense – especially one that takes place when night starts to creep forwards and nudge the end of the school day – but do make sure your learners (and you, for that matter) are robust enough to handle such effectively delivered doses of measured, chilling storytelling. They'll haunt you long after you've returned the book to its shelf." ~ Teachsecondary.com
"Frances Hardinge is one of my favourite authors so when I learnt she had a story in this newly-published anthology Twisted Winter – Chilling Tales From The Darkest Nights (edited by Catherine Butler and with stories by Susan Cooper and Liz Williams among others), I HAD to read it.
"A small family-owned hotel in a small village is the setting for 'Flawless'. A young teenage girl works for her mother as a cleaner, always striving for flawless, gleaming rooms. Her biggest frustration is her younger brother Dill who loves clean rooms and happily sets about undoing everything that she does. Then one day, after a snowstorm, as Chloe is watching Dill spoil the beautiful flawless snow, a strange woman grants Chloe's greatest desire: to make all the breakage and spoiling to stop.
"'Flawless' is a creepy, dark, disturbing fairy-tale like short that elaborates on the concept of 'be careful what you wish for' (it is of course, a concept the author knows really well: her book Verdigris Deep, a brilliant study in the art of well-wishing). It is amazing everything that the author was able to pack in these few pages: Chloe's understandable frustration with her limited life and with her brother, the difficulties of dealing with her mother, the concept of wishing and dealing with the consequences of it all. It is a superb example of Hardinge's skilful writing and a chilling Halloween tale." ~ Ana, The Book Smugglers, read more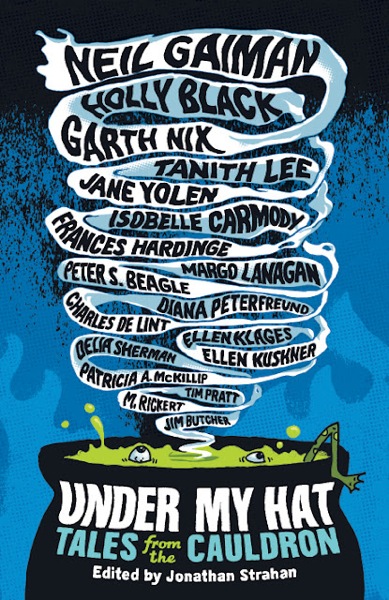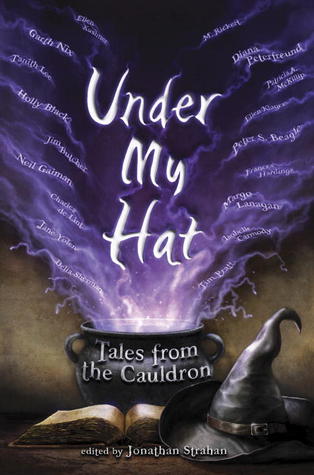 Under My Hat: Tales from the Cauldron
Under My Hat is a collection of witch-themed tales from eighteen celebrated fantasy and YA authors. There are witches to suit every taste, old and young, malevolent and benign, modern and from the mists of history, but all mysterious, magical and potentially dangerous. Aside from Frances' tale 'Payment Due', there are stories from Neil Gaiman, Garth Nix, Holly Black, Diana Peterfreund, Tanith Lee, Margo Lanagan, Peter S. Beagle, Charles de Lint, Ellen Klages, Ellen Kushner, Delia Sherman, Patricia A McKillip, Tim Pratt, M Rickert, Isobelle Carmody, Jane Yolen and Jim Butcher.
Reviews of
Under My Hat
"Hardinge's tale is a flat-out revenge story, but a revenge story where a young witch uses her powers for the good of her un-world-wise grandmother. It's one of the only pieces in which magic and witchery seem at both sinister and uproariously ridiculous; the scene in which the bailiff's enchanted furniture runs away to the protagonist's house was so vividly rendered that I did, actually, laugh out loud. The matter-of-fact and sly voice of the protagonist is also a pleasure to read, though the audience naturally feels a bit uncomfortable with the lengths that she goes to in teaching the man to be kinder via apt vengeance. I enjoyed the tension between ethical constraints and familial loyalty." ~ Brit Mandelo, tor.com, read more
"Eighteen notable authors brew up some real magic in this enchanting collection of brief tales about the witchy ways of witches. Strahan's introductory note explains that his inspiration to create such a collection came directly from his fascination with Terry Pratchett's Discworld, and readers who found a friend in Tiffany Aching will find plenty of kindred spirits here. The tones range from smartly snarky, as in Frances Hardinge's 'Payment Due,' in which a teen witch uses her powers to harass the repo man, to sweetly romantic, as in Delia Sherman's 'The Witch in the Woods' in which a shape-shifting healer must fight for her love's life. Neil Gaiman casts a spell with a possibly funny, possibly melancholy, but definitely odd poem, while Holly Black, Tanith Lee, and Charles de Lint play on themes of expectations and reality. A few stories are a little overtidily concluded, but several close on an enticingly open note: the final scene of Ellen Klages' 'The Education of a Witch,' involving a vindictive preschooler, is especially haunting. So grab your hat, your wart, and don't forget the eye of newt – you'll want to spend the witching hour and more with this coven." ~ Kate Quealy-Gainer, Bulletin of the Center for Children's Books, read more
"Under My Hat is a most enjoyable read, but the jolly graphics of the cover design suggest a younger readership than the content of the stories. Yes, these are magic stories, but they deal with some adult themes, so don't be misled into thinking this is a book for very young readers; it will engage a teenage reader with a taste for something different." ~ Sue Creed, We Love This Book, read more
"Eighteen short tales about witches by some of the wickedest names in fantasy make for a rich anthology … Readers will find much to enjoy, especially if taken in smaller bites rather than all at once." ~ Kirkus Reviews, read more
"A sizzling collection of witch tales from some of the best writers from around the world, this anthology looks at all kinds of witches – cruel, kind, funny, dour – and the paraphernalia of their profession. What all trusting readers will learn from this anthology is that you can never be quite sure where the next witch will come from or what they will be like! This anthology will delight and surprise while also preparing all to be on their guard." ~ Julia Eccleshare, Love Reading 4 Kids, read more
"Frances Hardinge's 'Payment Due' is wicked good! Even short stories can suffer in this economy and Caroline does her best to ensure the bailiff understands how his attitude affects those upon whom he preys." ~ Kathy Davie, Writesthoughts
"I'm not much of a short story person usually, but this collection has a little bit of everything, so it wasn't hard to find something to entertain me… this book is great when you have a few minutes and want to get in the mood for Halloween. 'Payment Due' … the first in the many shape-shifter stories, this one has a girl who's able to switch bodies with animals. It's surprisingly cool, and I loved her magical take on a cat's vengeance." ~ Meghan Miller, Forever Young Adult, read more
"This one is not so spooky as it is entertaining, but it's the perfect Halloween read nonetheless. The Good: 'Payment Due' is by an author I had never read before, but is now one that I'd like to spend a little more time with."~ The Bookosaur
"As with every Hardinge story, 'Payment Due' is a mixture of the fantastically absurd (as when all of the bailiff's enchanted furniture walks away from his house) and the poignant (in just a few lines, the author manages to convey the powerful love this girl feels for her nan). This is quite possibly my favorite story in the anthology." ~ Ana Grilo, Kirkus Reviews, read more
"Garth Nix, Neil Gaiman,Tanith Lee, Frances Hardinge and a host of other fantasy writers have contributed stories or poems that ooze horror or menace." ~ Sally Morris, Daily Mail, read more
"This collection contains stories about friendship, love and family, but, most importantly, they are all also about witches. Some are sad, some heartwarming, some dark but each one is guaranteed to be engaging. The book contains stories by well-known authors, such as Neil Gaiman, Garth Nix and Holly Black, and will appeal to readers with a variety of tastes who have a love of witches." ~ Children's Books Ireland – Recommended Reads
"This is a varied, imaginative, and well-crafted collection which features the work of a number of established writers such as Neil Gaiman and Holly Black, and will appeal to all readers, not only those who already have a taste for the fantastic." ~ Booktrust, read more (also included in 13 Halloween Reads)
"I also had a lot of love for Hardinge's contribution. She's an author I need to read more of and on the basis of this, will definitely be doing so. There were stories in this that didn't quite work for me but there were so many that did. This is a really clever, unusual, and occasionally very dark collection of stories that reward the reader hugely." ~ nobodyjones, Did You Ever Stop to Think, read more
"It took me a few days to make my way through Under My Hat as I wanted to fully take in the stories for each author and there were a couple that really stuck out and stay in my head even now. 'Stray Magic' by Diana Peterfreund, is about a magical stray dog looking for its master, that is picked up and put into an animal shelter for adoption. 'Payment Due' by Frances Hardinge with body swaps and magical furniture, this made for a quick but entertaining read. Each story brings us into the world of magic, witchcraft and mystery in its own way, and I looked forward to starting each new story wondering what magical thing would allow me to fall into the pages once again." ~ Michelle, Much Loved Books, read more
"'Payment Due' – I have never, to my knowledge, read Frances Hardinge before. I will remedy my ignorance posthaste, because this little story was not only about revenge and magic, it also managed funny, tragic, menacing, and heartwarming all in one go… In all, Under My Hat is a delicious anthology: it combines wonderful work by some of the best fantasists in the business, and brings those stories to the reader in one delightful package. It's early yet, but I predict that it'll be in the running for best of the year." ~ Cecelia, The Adventures of Cecelia Bedelia, read more
"Under My Hat would be a great read-aloud book to bring on a hut skiing or snowshoeing trip (adults as well as young readers), and to bear in mind for campfire stories next summer… Frances Hardinge's 'Payment Due' is at once droll and charmingly frightening." ~ Claire Martin, Denver Post, read more
"Overall, it's a great collection of stories, perfect for anyone who is into witches (or just wants to explore the topic a bit)… Frances Hardinge was her elegant self in the smart, funny 'Payment Due'". ~ Melissa Fox, Book Nut, read more
Other stories
'All that Glitters'

published in

Wow! 366

, 2008

'Behind the Mirror'

serialized in

First News

, 2007

'Halfway House'

published in

Alchemy

No. 3, 2006, in

The Best Science Fiction and Fantasy of the Year

, 2006, and in

The Year's Best Fantasy and Horror

, 2007

'Black Grass'

published in

All Hallows,

2005

'Bengal Rose'

published in

Scribble

No. 20, Spring 2003

'Captive Audience'

published in

Piffle

Issue 7, October 2002

'Communion'

published in

Wordplay

Vol. 1, Spring 2002

'Shining Man'

published in

The Dream Zone,

2001
---