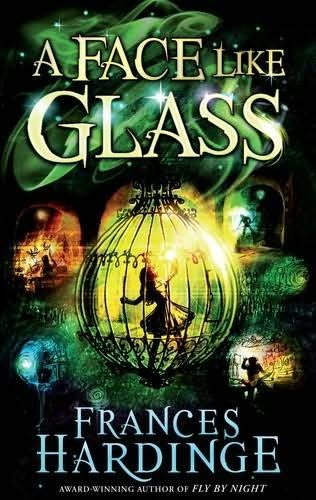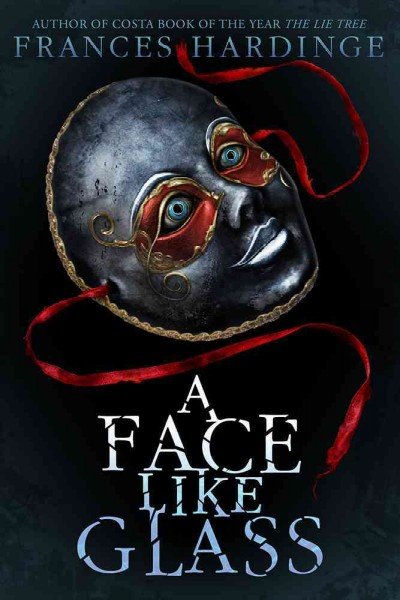 A Face Like Glass
Reviews
This is what people have been saying about A Face Like Glass:
The Literary Review
"It is the story of an orphan girl thrown into the fantastically complex world of Caverna, an underground city where master craftsmen make bad-tempered cheeses and wines have personalities. Hardinge's setting is a riot of Trimalchian banquets and Gormenghastian ritual, and her theme is that of purity and honesty winning out against the deceit and scheming that the inhabitants of Caverna navigate as part of their daily lives. All the while, they live in terror of the Grand Steward, who only ever lets one side of his brian sleep at any given time (leading to a serious case of schizophrenia). The book is rich and dizzying, and while Hardinge is perhaps better at using our world – as in her brilliant Verdigris Deep – than at creating her own, this is a novel for young teens to marvel at and savour." ~ Philip Womack
Booktrust
"This unusual and highly imaginative fantasy from Frances Hardinge is spellbinding: sophisticated, multi-layered and elegantly written. Set in a richly detailed dark fantasy world, and with an endearing central character in Neverfell, A Face Like Glass is sure to catch the imagination of confident readers." ~ read more
NPR
"Let me begin by stating that this is a perfect book. I don't say this lightly. It's perfect in the way that excellent clockwork is perfect: intricate, precise, and hiding all its marvels in plain sight. Imagine a clear box full of interlocking gears and springs and pulleys – you can follow all their movements, trace every tooth's bite, but what it produces in chimes or bursts of colour and light are mysteries to surprise and delight you." ~ Amal El-Mohtar, read more
The Sunday Times
"Award-winner Frances Hardinge's latest novel concerns an underground world where facial expressions are bought like garments, and the poor can afford only a few basic ones. 'Facesmiths' bring out new styles with such names as Dewdrops Regarded in a Spirit of Hope. Transplanted into this world is Neverfell, who at 13 shocks those around her by having an ever-changing human face, which reveals her true emotions and cannot lie. With an intriguing plot about Neverfell's search for her own lost history and a court full of deceivers and plotters who wish to make use of her transparency, this is the most enjoyable children's book of the year so far." ~ Nicolette Jones, read more
The Telegraph
(Summer children's books: Teenagers) "More thoughtful teens will revel in this complex novel about an orphaned girl who lives in an underground world where cheeses have magical powers, wines can kill you, and the Grand Steward is schizophrenic." ~ Philip Womack, read more
The Independent
(Good reads for teenagers this summer) "A detailed, well-written epic with a huge cast of characters." ~ Susan Elkin, read more
The Bookseller
"Frances Hardinge has created a beautifully imagined fantasy where the world's most talented artisans create delicacies beyond imagining: wine that will retrieve or wipe memories and cheese that creates illusions." ~ GH, L
Evening Standard
"Frances Hardinge's A Face Like Glass is almost bewildering in its abundance of invention; it's about a girl who lives in a subterranean world where people learn facial expressions like a foreign language. Weird, and wonderful." ~ Melanie McDonagh, read more
The Bookbag
"The reader will be with Neverfell all the way as she learns about her new home and battles for survival and justice. She is a really likeable character, loyal to her friends, and stubbornly intent on improving life for everyone around her. This is the kind of book which makes you slow down as you reach the final pages because you don't want it to end, and which will provide thoughtful readers with much to ponder and discuss." ~ read more
We Love This Book
"A Face Like Glass is a brilliant fantasy adventure with an unforgettable heroine." ~ George Hanratty, read more
Mostly Books
"A riveting read, Frances Hardinge creates a truly imaginative and exciting world. I really love Frances' books, which are all so different and thrilling I can't put them down. ~ Ellie, read more
A Dream of Books
"It's one of the most original and spellbinding stories I've ever come across. I can't even begin to try and compare it to anything else because it stands in a league of it's own and is so unusual and surprising that I could never guess what was going to happen from one chapter to the next. This is one of those books that will gradually creep up on you to the point that you won't be able to think about anything else. It's the perfect read for a lazy Sunday when you can read and read all day without ever having to put this book down." ~ SJH, read more
Fantastic Reads
"This novel is as rich and perfumed as the food and court life it describes. When I started reading it I found it almost too rich, being able to only read a couple of pages at a time. But this morning I have read half the book at one sitting, greedily gulping down Hardinge's opulent prose. I highly recommend it for readers of 11+, as I do her other novels. She's a fantastic writer." ~ Ali, read more
The Guardian Children's Books
"Inventive, gripping and well imagined, this is a brilliant and suspenseful tale. It is exceptionally well written and a must-read for all fantasy lovers." ~ this review was written by 11-year-old Brynnie Rafe, one of the winners of the 2011 Guardian Young Critics Prize, read more
Young Post (South China Morning Post)
"A Face Like Glass is one of those rare novels that grabs you so tightly you don't want to put it down and simultaneously feel the desperate need to tell everyone how good it is. This is a tremendous work of fiction that is in a league of its own." ~ John Millen, read more
School Library Journal (starred review)
"Hardinge is at the top of her game with this entrancing and action-packed adventure. Her voluptuous prose is full of sensory details and wildly imaginative descriptions, yet the world-building is controlled and gradually revealed. Readers will learn about this caustic and claustrophobic society right along with the protagonist and be highly invested in her struggle." ~ Luann Toth, read more
British Fantasy Society
"Hardinge creates a fascinating world for her wonderfully nuanced characters; her writing is like a mix of Neil Gaiman and Jeanne DuPrau. I can absolutely imagine the story and characters continuing into sequels as Hardinge has clearly put in the groundwork in establishing every aspect of this world." ~ Rebekah Lunt, read more
Kirkus Reviews (starred review)
"Madcap, mysterious, magical, and meaty: like Grandible's cheeses, this may cause visions – or just make your head explode (with delight). Don't miss it." ~ read more
Books Monthly
"The unique voice of Frances Hardinge rings out once again, and the result is an entrancing enchantment, a wonderful story with a touch of fantasy but grounded in reality. Her imagination is boundless!"
Publisher's Weekly (starred review)
"Hardinge has created a world of great affectation and pretense, as well as visceral danger; poisonings and blithely ordered executions are persistent threats. Hardinge's characteristically lush and sophisticated language will entrance readers, and she makes wonderful use of her singular setting and wildly eccentric cast to pose haunting questions about reality, artifice, and the things we attempt to conceal." ~ read more
The Book Garden
"Marvelous world building and a cast which, down to supporting characters, is so wonderfully devised. Needles to say, smart and feisty Neverfell captured me the most. Some books read in black and white, and this one is not only full color, but like HDTV in your head. In other words, totally amazing!" ~ Birgit, read more
Booklist (starred review)
"Using beautiful prose, Hardinge builds a richly imagined world that twists as much as the carefully orchestrated plot. Readers will eagerly follow noble Neverfell through its tunnels, marveling at the extraordinary sights and catching their breath at her daring escapades." ~ Julia Smith, read more
Shelf Awareness (starred review)
"Frances Hardinge writes at full throttle, with luscious language, viscerally evocative descriptions and more plot twists and turns than the Minotaur's labyrinth. Themes of empathy and honesty provide the foundation for this stunner, but it's the wily storyline and gorgeous writing that will leave readers longing for a new Face to express their devotion to the author." ~ Emilie Coulter, read more
Asking the Wrong Questions
"Hardinge is more than just a worldbuilder, and in Neverfell and her journey she shows off her tendency towards nuance and complexity as well as in any of her worlds. That same nuance may be what's keeping Hardinge from becoming a superstar – her novels lack an obvious hook and don't lend themselves to a simple selling pitch – but hopefully the work of her ardent fans will help to spread her name, and make her a slightly less well-kept secret." ~ Abigail Nussbaum, read more
The Readventurer
"… this story has so much more – it's about letting go of control and having faith. It's about acknowledging your feelings even when they're distasteful and ugly. It's about revolution. It's an exodus story. It's a fast-paced twisty mystery. It's the kind of mystery that somehow manages to slip under your radar until you're left staring into space as all the details that you should have been paying attention to suddenly align, and your coffee cup goes crashing to the ground. And if you haven't already noticed from my excessive use of quotes, her writing is brilliant too. It's quirky and original but somehow also neat and precise. I spent equal time swooning at its beauty and marveling at its elegance." ~ Catie, read more
Rona Books
"Frances is a talent the likes of which we haven't seen since Ursula le Guin – if ever – and her followers are every bit as rabid – maybe more so. And deservedly so, who else could create such a crazy fantastic world and reveal it through exciting character driven plot and all with prose that is not just flawless but perfectly apt." ~ AJ Ponder, read more
The Book Smugglers
"It is a work of art, this book. It is beautifully written, it is clever and fun, it has social commentary both in obvious and subtle ways and a heroine who is totally awesome." / "I loved A Face Like Glass, and I've discovered a new fantastic, favorite author in Frances Hardinge. Absolutely recommended, and in the running for one of my top 10 books of the year, as well." ~ Ana and Thea, read more
Strange Horizons
"I've come to see A Face Like Glass as a novel that does two things simultaneously; it shows us a protagonist learning to see things clearly, and it shows readers that the appearance of the very story they are reading may be just that, and that there may be other possible readings to it. The first of these is fairly common, especially in children's and teens' literature, but the second is far less so, at least when it's not done in a consciously clever, postmodern way." ~ Hallie O'Donovan, read more
The Horn Book
"Hardinge's imagination here is – as ever – ebullient, lavish, and original. Whether she's anatomizing expression as fashion accessory, describing the effects of certain wines, or likening human maturation to that of cheeses, she needles into some of our dearest desires and foibles with sharp psychological insight. Her enthusiasm for language play brightens dark Caverna with the sparkle of wit; but most notably, she suggests how fundamental to human interaction our facial expressions are."
Bulletin of the Center for Children's Books (starred review)
"There is wit in the writing style and cleverness the development of this crackling world, and readers will connect with Neverfell, the one girl who can't hide what she is feeling in a world that has no idea what that is like."
RED Book Reviews
"The characters, plot, etc. are all great, though it's the world-building which stands out the most here (unlike her some of her other books, Fly By Night and Twilight Robbery, where the characters of Mosca Mye and Eponymous Clent dominate my memory). The plot is full of twists and lies and secrets." ~ RED, read more
Kirkus Reviews (In Praise of Frances Hardinge)
"… rare – unfortunately – are female protagonists like Hardinge's. Mosca Mye (from Fly By Night and Twilight Robbery), Hathin and Arilou (Gullstruck Island) and Neverfell (A Face Like Glass) are all complex characters with strengths as well as weaknesses, whose arcs develop in beautiful and unexpected ways. All these girls question their surroundings, what they are told and choose to take a stand for their beliefs." ~ Ana Grilo, read more
Pages Unbound
"A Face Like Glass is a strong, imaginative fantasy that strives to bring the readers into the magic of the world that Hardinge has created. This is a book that is as much about the experience and the atmosphere as it is about the characters or the plot; readers are to sit and marvel at the strangeness that is Caverna – an underground place where nothing and no one is what they seem." ~ Briana, read more
Great Imaginations
"The setting descriptions were lush and the scenery was brilliantly rendered. The story was freaking fantastic. It starts out a little slow with the exposition and building of the story, but once it does, it's a page turner. You just have to keep flipping pages to find out what happens next. And this is not a short book. Sometimes it feels like it's a bit too wordy, but the language and writing are beautiful so it totally was NOT an issue for me. Yeah, that's right. This author is a master wordsmith." ~ Kara Malinczak, read more
Clover Hill Book Reviews
"A Face Like Glass is a well crafted story with lots of intrigue, plots and adventure. The only thing missing was love – but Neverfell grows up and matures in this, and really comes into her own." ~ Michelle, read more
Inis Magazine
"Hardinge demonstrates that she is a master at worldbuilding, allowing the fully realised city of Caverna to unfold before Neverfell's (and by extension the reader's) eyes while avoiding lengthy expository passages. Her writing is consistently sophisticated and witty, and the mystery elements are perfectly paced, leaving clues for the reader without ever revealing too much at one time. Although guidelines are given, this is definitely one for readers of all ages who can handle the length." ~ Kate Harvery, read more
I Read, Therefore I Blog
"Neverfell is a charming and infuriating character. Trusting to a fault, I did get irritated at times by her willingness to believe characters who scream malevolence but that is part of who she is. I love her loyalty, her desperation to have a friend and her shock at discovering how badly she's been manipulated by others. Her battle on behalf of the Drudges (the underclass who do all the work but are only permitted a couple of basic expressions) had me cheering her on and I admired her resilience and inventiveness." ~ Caroline Hooton, read more
Chachic
"This beautiful book will definitely make it to my best of 2013 list. Highly recommended for MG/YA fans of fantasy, political intrigue, class conflict and unique world-building." ~ read more
Skygiants
"[I]t's Frances Hardinge, so you already know it's really good, and it's basically fantasy of manners on LSD, and it's funny and creepy and biting and heartbreaking, and there is literally a scene in which Neverfell is repeatedly forced to choose between cake and death. And it works. SO THERE YOU GO." ~ read more
Migmag
"Frances Hardinge has received well deserved praise from many sources for this inside out fantasy novel (you will understand what I mean after you have read the book) with its very unique theme. Everyone who likes a story with a difference will thoroughly enjoy this book." ~ JC
Robin's Books
"Once I'd felt my way into the book, it was impossible not to be entranced. Hardinge's use of language is phenomenal The book appears to be marketed at fans of JK Rowling, but the world building and intricate imagery make the Potter novels look like Spot the Dog. The novel is suffused with a soft and delicate wit. There is villainy of the highest order, and heroism of epic proportions. There is some obvious but important allegory, and at the centre beats a very good story." ~ read more
Realm of Fiction
"Not very often do I truly consider a book to be completely and wholly original. I suppose that is the inevitable curse of being an avid reader, yet Frances Hardinge's A Face Like Glass is every possible shade of inventive and ingenious that could have been hoped for. I am not a writer (I have neither the patience nor the motivation) but books like this – books that stretch and flex every corner of my thoughts, books that remind me of the value of imagination – inspire me to dream and put pen to paper." ~ Sam
---