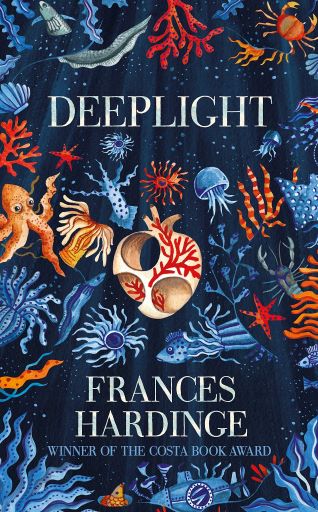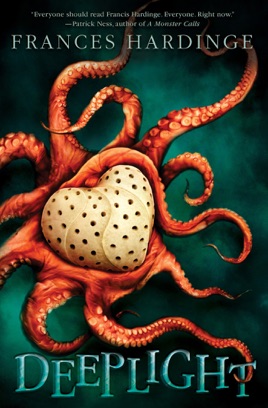 Deeplight
Reviews
This is what people have been saying about Deeplight:
The Times (Children's Book of the Week)
"The new novel from the Costa award-winning author of The Lie Tree is a feat of impressive world-building and imagination: Cicero meets Jacques Cousteau laced with Frances Hardinge's own dark magic." ~ Alex O'Connell, read more
The Sunday Times (Children's Book of the Week)
"This is an action-filled fantasy that has to be read slowly. Every word by the Costa-winning author Frances Hardinge is chosen with such care, every sentence so crafted and every metaphor so considered, that its 448 pages cannot be dashed through." ~ Nicolette Jones, read more
The Observer
"[T]he freedom of an entirely imagined landscape showcases her staggering originality. A masterclass in world-building." ~ Fiona Noble, read more
The Guardian
"Like the subject of Ariel's Song in The Tempest, Deeplight is headily 'rich and strange' throughout, preoccupied with transmuted forms, the fearsome fascination of the sea, loyalty warring with self-interest, and the human yen to placate and venerate the monstrous." ~ Imogen Russell Williams, read more
The Daily Telegraph
"Now sit up straight, for here is the much-awaited ninth novel by Frances Hardinge – and she is not the sort of author you read lying in a deck chair with your fist in a box of chocs. Hardinge is known for her dense, darkly fantastical plots, and Deeplight is no exception. But she is a deceptively disciplined writer, and here she untangles her complex story in clear, suspenseful chapters, and contains her every flight of fancy within a rigid plot. Hardinge is not always an easy read – but she is a reliably good one." ~ Emily Bearn, read more
The Daily Mail
"Costa award-winner Hardinge is on top form, summoning myths, mystery and an affecting, realistic portrait of vulnerable boyhood friendship — and its limits." ~ Sally Morris, read more
The Financial Times
"As well as being an exquisite and imaginative writer, Hardinge is psychologically acute: Jelt will be familiar to anyone who has ever had a frenemy keen on coercive control. This is a dazzling deep-sea tale." ~ Suzi Feay, read more
Kirkus Reviews
"The many pleasures of this tale include a range of extraordinary female characters and sensitive and respectful depictions of deaf people and hearing signers. Humans in this world vary in skin tone, but race has no significance; there are few physical descriptors for the main characters." ~ read more
Literary Review
"Hardinge's writing rolls out like breakers on the shore, turning up polished pebbles, barnacled creatures and fantastical nightmares. It will intrigue those of twelve and up." ~ Philip Womack, read more
School Library Journal
"But why do you read a Frances Hardinge book? You read it because her brain doesn't seem to operate in the same fashion as yours or mine. Each book she writes could only have come from her. She sounds like no one else, writes like no one else." ~ Elizabeth Bird, read more
Books for Keeps
"Frances Hardinge has the weirdest, most fecund and generally extraordinary imagination of any contemporary children's writer. Far from ever running out of inspiration she gives the impression of having to constantly rein in her powers lest they take off in too many divergent directions." ~ Nicholas Tucker, read more
The British Fantasy Society
"Ultimately, this is a story about change, positive and negative changes, irreversible changes, and accepting those when they happen. Hark must let go of the poisonous relationships of his childhood that hold him back. The islands of Myriad have to let go of the gods who often destroyed whole villages on a whim. It's about letting go of the past, not letting it dictate our futures, an uplifting message people need to hear regardless of their age." ~ Sarah Deeming, read more
The Wall Street Journal
"When it comes to storytelling, a tragedy is as good as a triumph, for 'stories [are] ruthless creatures and sometimes [fatten] themselves on bloody happenings,' Frances Hardinge writes in Deeplight (Amulet, 419 pages, $19.99). It is an observation that applies not only to this novel but to her body of work. Here, as in the fantasy stories The Lie Tree (2015) and A Skinful of Shadows (2017), Ms. Hardinge is assured and sophisticated in her exploration of the dark temptations of power. In Deeplight, the happenings are less bloody than briny, though, for the story is set in Myriad, an archipelago still shuddering in the aftermath of its Götterdämmerung, when nightmarish leviathan-gods tore one another to pieces in the deepest ocean. All that remains of the monsters are god-fragments, 'godware' scavenged and sold for its supernatural qualities. Fourteen-year-old Hark and his domineering friend Jelt trade in the black market for these relics, but when a smuggling gambit goes wrong, Hark gets sold into indentured servitude on a far island. He has begun to settle not unhappily into his strange new life when Jelt appears and yanks him out of it. There's a painful dynamic between the two that readers ages 12 and older will recognize – Jelt is a classic 'frenemy' – and things turn sinister indeed when the boys find a piece of godware that not only heals bodies but also transforms them in a way that is alarmingly… godlike." ~ Meghan Cox Gurdon
Bulletin of the Center for Children's Books (starred review)
"The economy of the island Lady's Crave relies heavily on the exchange of godware – relics that were left behhind when the gods of Myriad destroyed themselves – and young Hark and hiss reckless pal Jelt rely heavily on their ability to dupe naïve customers with knockoff godware. Unfortunately, their latest scheme lands Hark in indentured servitude, but Jelt refuses to give up, pulling Hark into a plan to get real godware for themselves, a plan that could revive the gods and destroy the world. Hardinge yet again masterfully explores both deeply personal and larger societal themes, here casting the toxicity of Hark's relationship with Jelt as a reflection of Myriad's people's reverence of merciless gods that literally lived on fear. Jelt is a near virtuoso of gaslighting, constantly telling Hark that he's crazy and weak, and readers will feel both frustration and sympathy for a kid who's beginning to realize his childhood idol has some disturbingly dark flaws; the true nature of the gods emerges on a similar track, bringing Hark to a place of heartbreak and confusion about what he thought was right and moral. All of this glorious thematic complexity inhabits a wildly inventive world, with the menacing roils of a dangerous sea threatening the archipelago and touches of steampunk rounding out the fantastical elements. Hardinge's fans will not be disappointed, and new readers will be thrilled to be pulled into the alluring expanse of her work."
Publishers' Weekly (starred review)
"Equal parts dazzling fantasy, swashbuckling adventure, and tender coming-of-age tale, this ambitious standalone from Hardinge (A Skinful of Shadows) cautions against xenophobia, zealotry, and greed while using boldly drawn characters to illustrate storytelling's power and fear's role in faith." ~ read more
Readings
"Every new thing you learn about the world of Deeplight has you nodding 'of course'. And then, in this complete, deep and intensely interesting world, there is an even more interesting story with fabulous, strong and brave, and sneaky and hateful, protagonists. Each one feels as real as the world they're set in." ~ Dani Solomon, read more
Magic Fiction Since Potter
"This story is deep and disturbing in more than its oceanography. It has more layers than its physics-defying waters. It is a book with many themes, and plumbs ideas associated with our creation of and need for 'superstitious' religion, with priesthoods, with cults and with science. It equally treats of phobias; of true and false friendship and how they arise, and are destroyed; of belonging and dislocation; of roots and nationalism; of the ties of family, actual and developed. It is as rich in though-provoking themes as it is in vivid, quirky imagination." ~ Gordon Askew, read more
The Young Blood Library
"Lands which are drawn so vividly they become real enough to touch are truly special and Frances Hardinge has created such a place in Deeplight. As the story develops Hardinge slowly reveals the bigger geographical picture of where the Myriad archipelago is in relation to the wider world and has planted the seeds for a location which is ripe for exploration in future stories." ~ Tony Jones, read more
---