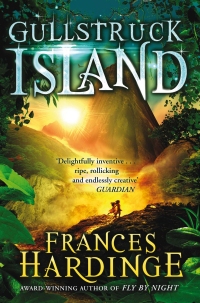 Gullstruck Island / The Lost Conspiracy
Reviews
These are just brief excerpts – but for most of them, you can click through to read the full review.
The Bulletin of the Center for Children's Books (starred review)
"Hardinge is a consummate storyteller, plunging readers into an utterly alien, original world that she fleshes out through evolving plot points rather than tedious descriptions or long passages of historical detail. Her exquisite prose, while never self-conscious or overwritten, has the power to turn a list of farm implements into a prose poem, and yet it maintains such a silky pace that the daunting page length slips past almost without notice."
The Sunday Times – Children's Book of the Week
"This dense, imaginative fantasy… is distinguished, as is all of Hardinge's fiction, by her writerly precision and phrase-making."
~ Nicolette Jones
Times Online – The Hottest Reads of 2009
"A quietly published but also excitedly awaited title"
~ Nicholas Clee, read more
The Bookbag
"Gorgeously dense fantasy with sophisticated worldbuilding, plenty of fantastical elements and a central character who stands out from the crowd by her very quietness. Sparkling wordplay lifts this book from its genre."
~ Jill Murphy, read more
LoveReading4Kids
"A hugely imaginative and inventive fantasy, Gullstruck Island is the wonderful creation of a whole new world in which some of the strangest things happen."
~ Julia Eccleshare, read more
The Guardian
"Frances Hardinge's delightfully inventive Gullstruck Island cooks along for 504 ripe, rollicking and endlessly creative pages. If that sounds exhausting to you, maybe that's the point. Maybe that's why it's a kids' book."
~ Patrick Ness, read more
Armadillo
"With Gullstruck Island, Hardinge is firmly back on fantasy territory, if one can say that of such treacherous ground, but with a third setting and new characters. It's her best yet and the first to show that she is developing control over her own imaginative and linguistic brio."
~ Mary Hoffman, read more
Strange Horizons
"Gullstruck Island contains the classic YA motif of the protagonist learning to know herself, but the book can also be understood as entire peoples coming once again to know themselves and to know their lands. What begins as one of the simpler of Hardinge's books grows in subtlety and complexity as the ground of the book grumbles and shifts and slides under our feet with the movement of the mountains. When the world does come crashing down, like lava, it leaves behind it fertile soil."
~ Farah Mendlesohn, read more
Kirkus Reviews (starred review)
"Hardinge knows the world of Gullstruck. She understands its complex mix of cultures and languages, grasps the nuances of religion and belief and comprehends the long-simmering tensions between colonial invaders and indigenous tribes. Her lyrical descriptions paint a clear picture of the flora and fauna as well as the unusual landscapes – rumbling volcanoes, lush jungles, rocky coastlines – that make up the tiny island nation. This is hardly surprising, as she invented this world. What's amazing, however, is how easy she makes it for readers to enter into and apprehend it – even while mysteries swirl around them. From the first pages, in which readers are introduced to the notion of people who can separate their senses from their bodies, through a breathtaking journey of revenge and redemption that pits a stubborn, devoted girl against an unknown evil, epitomized by the deliberately anonymous individual who manipulates those around him into wreaking death and destruction, the story builds inexorably to the gripping conclusion. Brilliantly conceived, perfectly executed and utterly mesmerizing."
The Horn Book (starred review)
"Hathin is a conscientious caretaker of her sister Arilou, one of the Lost – those whose senses are "loosely tethered" to their bodies, who can observe and report on what's happening anywhere on Gullstruck Island. Arilou's reputation as Lost is essential to Hathin's native Lace village, which has no other means of support now that commerce and colonizers have depleted its fish. But Hathin doubts Arilou's abilities – is she Lost, or just mentally incapacitated? When inspectors arrive to test Arilou's gift, Hathin tries to ensure a successful outcome. Instead, she witnesses cataclysmic destruction and launches herself and Arilou on a trek that changes her world. Hardinge's fantasy world is one of mountains and spewing volcanoes; of the sea, jungles, and alpine mists; of colonizers and of tribal cultures whose ways are vivid and revealing (readers won't soon forget the jeweled tooth-implants of the Lace, nor their compulsive smiling). The story's transcendent earthiness – a result of Hardinge's poetic language and grounded, closely observed setting – is matched by its lively exploration of political themes. Indomitable, quiet Hathin, named (in the Lace way) for the unnoticeable sound of the "settling of dust," makes an impressive heroine as she grows toward self-knowledge. A many-layered, richly rewarding story."
~ Deirdre F Baker
ALA Booklist (starred review)
"Gullstruck is home to the Lace, an outcast tribe known for their perpetual smiles and decorated teeth, who fear and worship their three volcanoes while the rest of the island follows the traditions of the Cavalcaste invaders. In a Lace coastal village, Hathin cares for her sister Arilou, who may be a Lost, a people revered for their ability to travel independently of their body. Loath to relinquish their new status, the villagers have hidden signs that Arilou may be only an imbecile, with Hathin bearing the brunt of responsibility. When a Lost Inspector visits the village and mysteriously dies, the terrified villagers cover that up as well, unaware that all the Lost on the island have died simultaneously; when the lies are discovered, Arilou and the Lace are blamed for the deaths. When her village is massacred, Hathin escapes with Arilou and goes in search of revenge. This is only the beginning of a deeply imaginative story, with nuanced characters, intricate plotting, and an amazingly original setting. Though the narrative bogs down in world-building, there is no shortage of tension or suspense as Hathin slowly uncovers the dangerous conspiracy threatening the island. A perfectly pitched, hopeful ending caps off this stand-out adventure."
School Library Journal
"I have no qualms about saying that The Lost Conspiracy is this woman's best book yet. Somehow, by letting her freak flag fly, Hardinge has gone beyond her other two books and created something that will actually be more accessible than either the previous volumes were. She's at her best when she's in the grips of her own particular form of madness. Sure, kids will have to clarify early on who the colonizers are and who the colonized be, but that's explained clearly enough. What they will find when they read this is that this is a world like nothing they've ever encountered before and that they'll never want to leave. Beloved."
~ Elizabeth Bird, read more
"It will take readers more than a few beats to find their bearings in this relentlessly inventive fantasy, but once they figure out the Lost (people who can send their senses out into the world and sometimes get lost from their bodies), the social relations among the colonized and colonizers of Gullstruck Island, and the physical world they inhabit, the story is gripping… The author is as inventive with language as she is with social and cultural constructs. This novel is just plain fun."
~ Carolyn Lehman, read more
Young Adult Books Central
"Hardinge, author of Fly by Night and Well Witched, has created an incredible world of magic, superstition, and treachery. This world is so detailed, and Hardinge's descriptions of the island and its people are so intricate that readers will feel as though they are on the island of Gullstruck themselves. Hathin is a wonderfully complex young girl who struggles with the decisions that she must make and how they will affect her people and the island as a whole. I highly recommend this book for fans of Hardinge's previous works, as well as anyone in search of an engrossing tale of fantasy."
~ Laura Amos, read more
Books for Keeps
"Hardinge's fantasy is populated with an engaging range of characters, their quickly changing fortunes played out in an equally engaging landscape which, at times, almost assumes its own living and breathing existence."
~ RD
Publishers' Weekly (starred review)
"British author Hardinge's latest feat is a luminous example of gifted storytelling at its best. Set on Gullstruck, an enchanted island of dueling dormant volcanoes, lush jungles and warring tribes, two sisters in a shunned race of perpetually smiling Lace people possess a secret. Arilou, first in line to become the next Lady Lost (a hallowed figure with a propensity for out-of-body travel), shows no sign of being the mystic she is believed to be. Hathin, Arilou's official 'translator' and unofficial guardian, attempts to hide their deceit at all costs. But when a Lost Inspector comes to town to authenticate Arilou's identity, their ruse – and the fate of the Lace people – is in danger. The detailed tale that unfolds is epic, but unlike some long-for-long's-sake snooze fests, this journey feels effortless and wholly satisfying. Deliciously complex yet easily digestible, Hardinge's (Well Witched) prose is what makes the reading so enjoyable ("While Arilou's name was meant to sound like the call of an owl… Hathin's name imitated the whisper of settling dust"). Every turn of phrase (like the book itself) is thick with poetry and meaning."
Vector
"At that point things get a bit more predictable (making it a sort of inversion of Hardinge's first novel, Fly by Night); but in the end you don't read Gullstruck Island for the plot. You don't even read it for the characters who, though appealing, and inter-related in complex and satisfying ways (Hathin and Arilou's relationship is beautifully developed), are not that deeply rendered. You read it to be enchanted by Hardinge's voice, whether whimsical or deadly serious, or both at once…"
~ Niall Harrison, read more
Bunbury in the Stacks
"The Lost Conspiracy isn't just a darn good story, it's a story that can open your mind and change the way you approach life. It will ask you to question the meaning of stories, acknowledge the importance of understanding one another, understanding yourself, and knowing what you need from life. It is a story of stories in which we get to wonder how much of what is made up just might be true, and how much is really just conspiracy. The Lost Conspiracy exists so that when you pass the point where the stories end, you will know you can go on." ~ Heidi, read more
Bookelfe
"This is a book about colonialism and culture clash and the undeath of history. It's about the family you have, and the love and resentment you feel towards someone who needs you, and whose existence overshadows yours, and whose mind is so alien that you don't even know if you can reach it. It's about the family you don't have, and the ways broken people can and can't rely on each other – there's a subplot that I love, about Hathin and a boy who has lost his family and calls her his little sister, because Hathin knows she isn't his little sister, that broken pieces don't fit together that easily. And the thing is, it would be a great book that treated any one of these things with the complexity that it deserves, but Frances Hardinge manages to do all of these things at once, and still have time for incredible worldbuilding, and even to be very funny on occasion, and I just closed the last page with a sense of awe." ~ read more
Kirkus Reviews
"… in Gullstruck Island, the living fight for survival as the places for the honored dead expand and take over the island, while the last members of a marginalized tribe fight poverty and injustice.
These are quite political books, more often than not offering social commentary, and at least four of Hardinge's five titles end with some sort of revolution. I consider myself to be well-read when it comes to YA and MG titles, yet rarely do I see authors daring to go there – to cross that invisible apolitical line and make powerful statements like the ones present in these books." ~ Ana Grilo, read more
Inis Magazine
"Fast-paced, original and inventive, Frances Hardinge has created a unique portrait of a world so like our own that we believe the story totally. Yet, it is so different that we also give ourselves over to the fantasy. Hardinge is a master at the use of language and wordplay, but this never burdens the storyline. Brilliant adventure, memorable characters, an utter joy to read." ~ Mary Esther Judy, read more
British Fantasy Society
"I think my favourite of all these books has to be Gullstruck Island. It has a brilliant cast of complex and interesting characters, a beautiful interweaving of folklore and ultimately human threads to create the convincing and engrossing backgrounds, and above all I absolutely adored Hathin – she stayed with me long after the last page." ~ Rebekah Lunt, read more
Book Nut
"Hardinge starts weaving in folk tales and traditions, giving life and personality to volcanoes, and turns the book into a bit of an adventure story and mystery. There are twists and turns, help from unexpected sources, and a bad guy who is scary because he's so reasonable and so wrong at the same time. And all of that adds together to make this book a true pleasure to read." ~ Melissa Fox, read more
Chachic
"This is the kind of book that should be better known, I'm kind of surprised that it isn't that popular. I think it would appeal to a lot of people because being classified between middle grade and young adult fiction, the book is pretty easy to read. Everything about The Lost Conspiracy is wonderful – from the worldbuilding to the storytelling and characterization. It has a varied set of believable characters and all of them are fully realized to the extent that you'll root for the heroes and you'll even understand the motives of the villains. You will never get bored with the fast-paced plot, which twists and turns so much that you can never predict what will happen next. Just when you think you've figured things out, Frances Hardinge throws you for a loop." ~ read more
---
UK Publisher: Macmillan Children's Books
UK hardback, paperback and Kindle published: 10 May 2012
UK hardback ISBN-10: 0230748791
UK hardback ISBN-13: 978-0230748798
UK paperback ISBN-10: 0230763502
UK paperback ISBN-13: 978-0230763500
Kindle ASIN: B007WTR9T2
---