The Town Crier's House – 2013
Events related to Frances Hardinge and her work.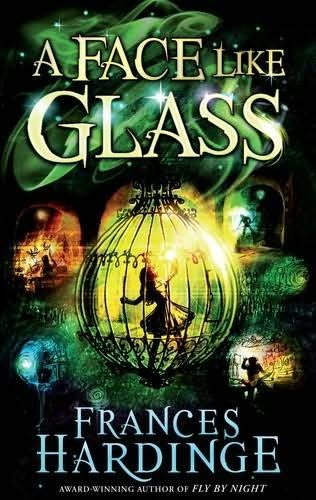 Kitschies' Red Tentacle Shortlist
18th January 2013
A Face like Glass was included in the Kitschies' shortlist for the Red Tentacle prize, "awarded annually to the novel containing speculative or fantastic elements that best fulfills the criteria of intelligent, progressive and entertaining."
Kitschies Awards Ceremony
26th February 2013
The winners of the Kitschies' Red Tentacle, Golden Tentacle, Inky Tentacle and Black Tentacle awards were announced at the Free Word Centre, London.
Library Visits in Oxford
1st March 2013
From 10 until 11am, Frances spoke at Oxford Central Library in the Living Room. She then appeared at Cowley Library from 1.30 to 2.30pm, in the Children's Section.
Booklinks Festival
4th March 2013
Frances took part in the Booklinks Festival by visiting Our Lady's Convent High School and Clapton Girls' Academy.
Royal Ballet School visit
6th March 2013
Frances spoke to Years 7, 8 and 9 at the Royal Ballet School, White Lodge, Richmond Park. This visit was kindly organised by the Lion and Unicorn Bookshop in Richmond.
Interview with BBC Radio Oxford
7th March 2013, 3pm
On World Book Day, Frances' self-conscious chirrupping was audible on the airwaves, courtesy of BBC Radio Oxford.
Chandlings School Visit on World Book Day
7th March 2013
Supported by the wonderful Mostly Books, Frances spent the morning in Chandlings School, Kennington.
Greenwich Schools Book Quiz
14th March 2013
This year the Greenwich Schools Book Quiz was held at Shooter's Hill Post 16 Campus, Greenwich, and Frances was one of the special guests (along with Ellie Daines, author of Lolly Luc). From 2pm Frances and Ellie each gave a short talk about their books, and at 2.30pm Frances signed copies of A Face Like Glass. At 4pm Frances and Ellie helped hand out prizes to the winners of the book quiz!
Latymer Prep School Visit
19th March 2013
Frances spoke to Years 5 and 6 at Latymer Preparatory School in Hammersmith.
26th March 2013
Aided and abetted by Books at Hoddesdon, Frances visited The John Warner School in the morning, and Haileybury School in the early afternoon.
ChipLitFest
19th April 2013
Frances visited Middle Barton School as part of the Chipping Norton Literary Festival 2013.
Chelmsford event organised by Just Imagine
30th April 2013
Frances will be visiting Tyrells Primary School in Chelmsford for a creative writing workshop with students from four local schools, followed by a talk and signing at Felsted School.

2nd May 2013
As part of the SCI-FI London program, the Post-Apocalyptic Book Club and Waterstones Piccadilly presented a panel discussion of dystopias and bizarre, dysfunctional societies in speculative fiction. Aside from Frances, panel members included Tom Hunter, Robert Grant, Anne C Perry, Adam Roberts and Jeff Norton.
Matthew Arnold School
16th May 2013
Frances visited Matthew Arnold School in Oxford for an event organised by Oxford Children's Book Group.
31st May 2013
Frances gave the keynote speech at the Conference.
UKLA Award Ceremony
5th July 2013
Frances attended the UKLA conference as one of the authors shortlisted for the 7–11 category of the UKLA Book Award. Many congratulations to Sarah Crossnan, Nadia Shireen Raynor and Elizabeth Wein for winning their categories!
Bingham Library, Cirencester
13th August 2013
As part of the Cirencester Literary Festival, Frances will be giving a talk and signing copies of A Face Like Glass at 11am at the Bingham Library, Cirencester.
Edinburgh International Book Festival
17th August 2013
2pm: Event with China Miéville
Frances appeared with China Miéville, author of celebrated works such as The City and the City, Un Lun Dun, Perdido Street Station and Railsea. The two authors discussed the challenges of world-building, and the creation of entirely imaginary settings.
5.30pm: Imprisoned Authors Series
Amnesty International's Imprisoned Authors Series gives authors the chance to show solidarity with persecuted writers around the world by reading out from their work. Frances took part in this reading at 5.30pm in the Peppers Theatre.
World Fantasy Convention 2013
31st October–3rd November 2013
On 1st November (4–5pm) Frances appeared with Holly Black, Garth Nix, Chris Priestley, Sarah Rees-Brennan and Chris Wooding in the panel titled "Not in Front of the Children: How far should you go in YA Fiction?"
She also took part in a joint reading with fellow Scattered Authors Society members Emma Barnes, Cecilia Busby, Lucy Coats, Teresa Flavin, Amy Butler Greenfield, Katherine Langrish, Katherine Roberts and Linda Strachan.

ArmadaCon 2013
15th–17th November 2013
Frances was a guest at ArmadaCon, a Plymouth-based Sci Fi and Fantasy Multimedia convention, this year celebrating its silver anniversary.
Frances appeared on two 'guest panel' events to answer questions from the audience, the first 9.30–11am on the Saturday and the second 9.30–11am on the Sunday.
---