The Town Crier's House – 2014
Events related to Frances Hardinge and her work.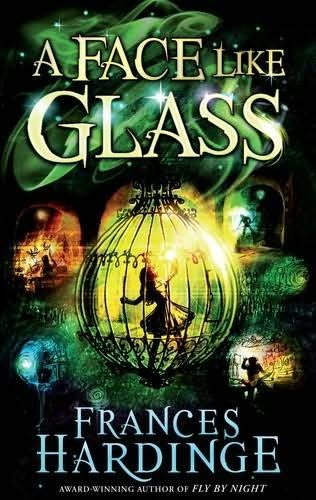 SCBWI Social
28th January 2014
Frances was the honorary guest for the social meeting of the Society of Children's Book Writers and Illustrators.
Bologna Book Fair
23–26th March 2014
Frances attended several days of the Bologna Book Fair.
Hounslow Library Spring Fair
29th March 2014
Frances gave a talk, reading and Q&A at Hounslow Library Spring Fair from 11.30am on 29th March.
FAB Cafe event, Manchester
24th April 2014
FAB Cafe, TV and Movie theme bar and 'the ultimate antidote to the mainstream', is hosting an evening of workshops and readings, where World Book Night editions will be given away. Frances will be giving readings from her work, and signing copies of her books.
Blog tour
5th–9th May 2014
5th May 2014: The Cuckoo Song cover was given the "Looks on Books" treatment at The Bitter Productions vlog.
6th May 2014: Frances wrote for The Book Smugglers' "Inspirations and Influences".
7th May 2014: Frances dropped in at Serendipity Reviews.
8th May 2014: A guest appearance at Fiction Fascinations.
9th May 2014: The last stop of the blog tour was an 'Awesome Women' post for Fluttering Butterflies.
Publication of
Cuckoo Song
8th May 2014
Cuckoo Song is Frances' sixth book, a creepy standalone tale set in the 1920s. Eleven-year-old Triss is recovering from an illness, and becomes increasingly aware that something is terribly wrong. She shouldn't be so hungry. There shouldn't be gaps in her memory. And her dolls definitely shouldn't move like that…
Official Opening of '26 Characters' Exhibition
8th May 2014
On 8th May, the splendid Children's Laureate Malorie Blackman officially opened the '26 Characters' exhibition at the Story Museum in Oxford. As one of the authors featured in the exhibition, Frances was in attendance.
Author Event at Story Museum, Oxford
4th June 2014
At 11am, Frances gave a workshop at the Story Museum for a class from Shellingford Primary School.
BSFA Annual Meeting
7th June 2014
On 7th June the British Science Fiction Association held their annual meeting, and Frances appeared as guest of honour.
YA LitCon
12–13th July 2014
Malorie Blackman curated the UK's first ever YA Literature Convention at the London Film and Comic Con 2014
Saturday 12 July: 15.30–16.15, Panel event
Bring me my dragons! Writing fantasy today
Chair: Marc Alpin. Panellists: Jonathan Stroud, Ruth Warburton, Amy McCulloch and Frances Hardinge.
With Game of Thrones, The Hobbit and Lord of the Rings making fantasy increasingly popular in the mainstream, what does it mean to write fantasy for young adults today? Four authors who each take innovative approaches to the genre come together with chair Marc Alpin of Fantasy Faction to discuss contemporary fantasy writing for young people.
Saturday 12 July: 16.15–18.00, Book signing session
Loncon 3 (World Science Fiction Convention)
14th–18th August 2014
Thursday 14th August: 20:30–21:00, London Suite 1 (ExCeL)
Reading
Frances will be reading an extract from her latest book, Cuckoo Song.

Friday 15th August: 10:00–11:00, London Suite 3 (ExCeL)
Panel event: Fallen London - Recreating London in Games
Moderator: Christi Scarborough. Panellists: Frances Hardinge, Jonathan Green, Kate Nepveu, David Cheval
This panel celebrates some of the ways that London has been represented in games; including LARP, tabletop, point-and-click and videogames. We also explore some of the darker aspects of seeing London with a player's eye.
Friday 15th August: 18:00–19:00, London Suite 4 (ExCeL)
Kaffeeklatsch with Frances Hardinge and Charles E. Gannon
An hour of coffee and conversation with Frances and her fellow host Charles E. Gannon, author of the Tales of the Terran Republic series and a wealth of shared world fiction, and writer for many role-playing games.
Friday 15th August: 21:00–22:00, Capital Suite 7+12 (ExCeL)
Panel event: You Write Pretty
Panellists: Geoff Ryman, Greer Gilman, Frances Hardinge, Christopher Priest, E. J. Swift
Beauty is in the eye of the beholder, they say, so let us behold some fine fantastical sentences. Our panel have each picked a sentence, and will have a chance to make their case for why theirs is the fairest of them all – but it will be up to the audience to decide.
Saturday 16th August: 12:00–13:30, Capital Suite 13 (ExCeL)
Panel event: Where is the YA Humour?
Panellists: Gail Carriger, Frances Hardinge, Jack Campbell, Jody Lynn Nye, Suzanne McLeod
Much of what we see in the YA shelves is dour, grimy and deadly. Why is that? Where can we find the lighter side of young adult fiction? Which authors should we look to for a satisfying happy ending or a good belly laugh?
Saturday 16th August: 19:00–20:00, Capital Suite 10 (ExCeL)
Panel event: The Education and Training of a Young Protagonist
Panellists: Zen Cho, Gail Carriger, Jack Campbell, Dave Luckett, Frances Hardinge
Kids have to go to school, whether it's a modern day educational institution or the school of hard knocks in a futuristic dystopia. How is education treated in SF? What might a futuristic classroom look like? What are some great examples of how education and training have been used by other authors?
FantasyCon
5th-7th September 2014
The convention was held in the Royal York Hotel, right next to York railway station.
Saturday 6th, 12:00 noon
Panel: Gentlemen Thieves, Loveable Pirates and Sexy Tricksters
Panellists: James Barclay, Joanne Harris, Kim Lakin-Smith, Frances Hardinge, Libby McGuigan
Why are untrustworthy characters and criminals among SFF's most beloved characters? Does sympathy for the underdog shade into idealising predators?
Saturday 6th, 3.00pm
Panel: The Chosen One
Panellists: Gillian Redfearn, Tom Pollock, James Oswald, Joanne Hall, Frances Hardinge, Helen Marshall
From Neo to Barack Obama. Many works of SFF place the fate of the world on the shoulders of a single, pre-ordained hero, who often possesses some magical trait. The panellists discussed ideas and subversions of the One in SFF and beyond. Are there echoes in real world politics? Is the concept stale and regressive, or can it be redeemed by a more diverse range of Chosen Ones in pop culture?
Saturday 6th, 5.00–5.20pm
Reading – extracts from

Cuckoo Song
Saturday 6th, 8.00pm
Just A Minute
FantasyCon's resident quizmaster, Paul Cornell, hosted this classic panel gameshow, with the scores read out by Latimer from "Tea and Jeopardy".
Players were Kate Elliott, Stephen Gallagher, Gillian Redfearn and Frances Hardinge.
KLQ National Final 2014
4th December 2014
Frances attended the Kids Lit Quiz National Final to reprise her role as author-mascot for two brilliant young student teams.
Goldsmiths Seminar
10th December 2014
Frances gave a guest seminar on the subject of "strange fictions" for Creative Writing MA students at Goldsmiths College, University of London.
Swanshurst Year 7 Literary Festival
15th December 2014
Swanshurst's annual Year 7 Literary Festival featured Sally Nicholls, Frances Hardinge, Katrice Horsley, Spoz, Leila Rasheed, Bali Rai, Tony de Saulles, Jodi Anne Bickley and Helen Monks.

---