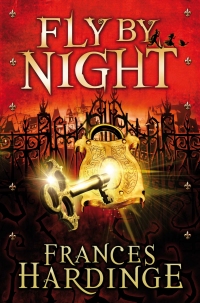 Fly by Night
Reviews
This is what people have been saying about Fly by Night:
The Guardian
"Hardinge is a hugely talented writer of tireless invention and vivid prose … At best Hardinge's writing puts her up there with Aiken and Leon Garfield in the recreation of an England that never was" ~ Jan Mark, read more
Garth Nix
"A wonderful and wondrous novel. Frances Hardinge has joined the company of writers whose books I will always seek out and read."
The Intergalactic Playground
"Hardinge is operating head and shoulders above so many other writers of fantasy for children … Fly By Night is a fantasy of wit and wisdom." ~ Farah Mendlesohn, read more
Armadillo
"Frances Hardinge's debut novel is something special and rare. It is a book of great quality, both in terms of writing and story, but it has also been a timely reminder to me what great children's books are all about, and are capable of… Undoubtedly, my book of the year." ~ John McLay
Kirkus Reviews
"I had never heard of this author before (FOOL that I was!), so I endeavoured to read Fly By Night as soon as possible. It was such a fantastic experience, I ended up gobbling up all of her books in rapid succession… Her premises are amazing. I am in constant awe at Hardinge's imagination and creativity. Her fantasy worlds are sophisticated (but never pretentious or boring) and her stories are thought-provoking as well as fun." ~ Ana Grilo, read more
The Bookseller
"A rollicking read to be savored."
Publisher's Weekly
"Along with an infusion of high-camp fantasy, Hardinge firmly plants in the novel the heroine's serious love of reading, which informs nearly everything Mosca does … And the setting is detailed and complex enough to inspire many sequels." ~ read more
(Also one of Publisher's Weekly 'Best Books of the Year' for Children's Fiction in 2006)
School Library Journal (starred review)
"Those who appreciate the inventive plots of Cornelia Funke and Jonathan Stroud or Lloyd Alexander's colorful prose should thoroughly enjoy this highly original adventure." ~ Steven Engelfried
Bulletin of the Center for Children's Books (starred review)
"Intricate plotting, well-developed and fascinating characters, delicious humor, and exquisite worldcraft envelop readers fully into this richly imagined world." ~ KC, read more
Seattle Times
"Incredibly well written."
Booklist
"Gr. 6-9. Taught to read by her scholar father, orphaned book lover Mosca Mye is an anomaly in a culture where literature is highly suspect and tightly controlled. When silver-tongued poet-spy Eponymous Clent passes through her village, the word-starved 12-year-old stubbornly installs herself as his traveling companion, serving as his uneasy accomplice in a mission that exposes the cutthroat intrigues roiling the surface of her troubled fantasy realm. Plot elements featuring intellectual and religious oppression carry a cumbersome philosophical load, tempered by a richly constructed backdrop incorporating Mosca's belligerent pet goose, eccentric floating coffeehouses, and a folk religion honoring household deities such as 'He Who Keeps Flies Out of Jams and Butterchurns.' The relish for 'words, words, wonderful words' sometimes seems more Hardinge's idiosyncracy than her protagonist's, especially as dense political upheavals begin to supersede Mosca's personal goals. Even so, the character's ferocity and authentic inner turmoil, both reminiscent of Philip Pullman's Lyra Belacqua, may buoy patient readers through this overlong but charismatic first novel." ~ Jennifer Mattson
Fuse8
"Frances Hardinge's whopper of a first novel has truly stolen my heart away. Not since Philip Pullman has a book created such a finely wrought and delicately planned out alternative world. But unlike Pullman (who has his charms BUT) Hardinge's book has a distinct advantage over its competitors. It's brilliant, yes. Well-plotted, well-paced, and well-characterized, yes. But it is also drop dead funny." ~ fusenumber8, read more
KidsReads.com
"Between the sometimes wordy but beautifully poetic descriptions, the action is fast and exciting as Mosca, her wonder goose and Eponymous fight off a myriad of deceivers, pirates and power seekers. Notes provided at the end of the book are most helpful in sorting out the convoluted groups and strange happenings that bring about all the action." ~ Sally M. Tibbetts, read more
The Book Smugglers
"This is a book with a main character who loves words in a world that fears them. Being a book about words – their importance, their potential, their beauty – one of the most brilliant things about it is how the author brandishes her words like Weapons of Mass Construction." ~ ana, read more
Strange Horizons
"This is a highly pleasurable story that challenges the reader to figure out the true motives and natures of its characters, giving nothing away until near the end, and it unfolds its complications with great glee. Fly by Night, although it is being marketed for children, will also entertain and delight adults with its 'wonderful words.'" ~ Donna Royston, read more
LoveReading4Kids
"12+ years. Winner of the Branford Boase Award 2006. Fly By Night is a wholly original fantasy peopled with a cast of unusual characters whose adventures unravel at a breathtaking pace. Mosca runs away from home with a manic goose called Saracen who can cause untold harm to her enemies and a tricky charlatan glorifying in the name of Eponymous Clent, having 'accidentally' set fire to her hated uncle's barn. Hounded as a criminal, she ricochets through a series of adventures meeting a huge cast of untrustworthy companions and getting involved in a bizarre espionage plot. Trying to unscramble any truths makes Mosca's story an exhilarating quest." ~ Julia Eccleshare, read more
Paper Boats
"The book is incredibly clever and well-detailed. It's full of twists and turns, secrets and plots – just when you think you know what's going on, you turn an unfamiliar corner and discover you don't know as much as you thought you did. The book has wonderfully witty prose and clever turns of phrase (perfect for a book whose heroine has a penchant for words) and is extremely funny. It also consists of some brilliantly ridiculous situations and characters like Saracen, a homicidal goose and Black Captain Blythe, a highwayman who accidentally becomes the champion of the poor and unjustly treated, much against his wishes thanks to a ballad that spreads like wildfire and his noble reputation soon precedes his noble deeds. The book's clever plot and wonderful cast of characters makes it a perfect read." ~ read more
British Fantasy Society
"Hardinge has a genuine gift and I can't speak (write!) highly enough of her work. She is the kind of writer of whom aspiring authors will be rightly and happily jealous. Like Terry Pratchett, she weaves political, historical, sociological and anthropological threads through her stories with consummate ease. This type of 'light' and enjoyable reading may well be the most enlightening of all as you are learning things about yourself and humanity with every perfectly turned scene." ~ Rebekah Lunt, read more
Book Nut
"If all first books could be like this – shoot, if all books could be like this – the world would be a happy place… It's a good adventure and, in the end, a profound little book. Highly recommended." ~ Melissa Fox, read more
---